This October sees the 2nd year of ReUse Month across the Country. As expected Cork is again highlighting the importance of ReUse as an important sector to assist our transition to a more sustainable society. Upcycling for the Home and Pre-Loved and Vintage Fashion are the main themes.
Reuse Month is part of a nationwide initiative to change attitudes to old and disused objects, while encouraging people to repurpose, donate, sell or repair items and to shop in the charity and vintage sectors.
CEF is involved with supporting events in Cork and Cobh. All events are FREE and everyone is welcome.
We are delighted with the participation of local outlets and organisations. For the lifestyle and home event these include Cork Deaf Enterprises. showcasing their wonderful upholstery service, The Paint Pot, La Table Belge, Quay Designs, A to Z shop as well as workshops on making celebration banners from material scraps with Louise Harrington and how to make a Busy Board for children. Eilis & Jo from Think-Speak-Do will carry out an public engagement exercise during the event. The Lord Mayor will attend the event at 12pm.
The Fashion Show will kick off at 4.30pm, with a wine reception and music. Participating charity and vintage shops include Miss Daisy Blue, Mercury Goes Retrograde, Barnardos, The Retro Workshop, Enable Ireland, Records and Relics, Gorta, Isabella Ru and the Hummingbird Rooms. The theme is "Glamour & Glitz" ahead of the Jazz Weekend and the party season – so be inspired for the latest look to sparkle for the season!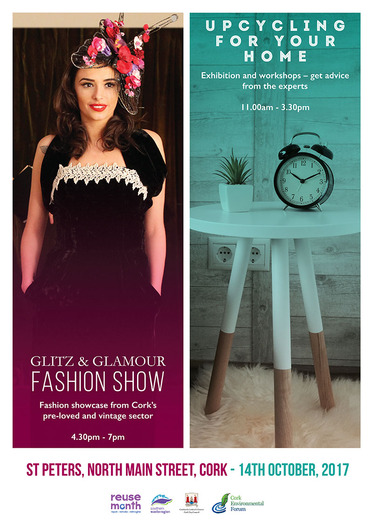 Local groups involved in the event in Cobh include Cobh Zero Waste, The Mens Shed Group, Cobh Tidy Towns and are supported by the Southern Waste Region office and Cork Environmental Forum.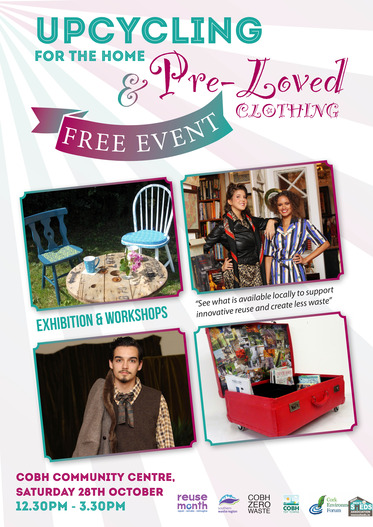 Everyone is very welcome and there will be interesting workshops aswell.