There was a lovely local ReUse & Upcycling event in Cobh for ReUse month with Cobh Zero Waste also being involved. The event was supported by SRWMO. This final Reuse Month event took place at the Community Centre in Cobh. It also featured stands by Cobh Zero Waste and Cobh Tidy Towns. Other great local projects incorporating reuse as part of their work included the Men's Shed, Cobh Youth Project, Cobh Animation, Clio Higgins, Quay Designs displayed her upcycled furniture and Syliva and Tim from Cobh Allotments, provided workshops for the children.
CRNI Seminar
The Community Reuse Network of Ireland organised a very well attended Seminar on the 28th October for organisations and agencies involved in supporting social enterprises and local projects involved in Reuse and promotion of the Circular Economy. Presentations from Claire Downey, CRNI, Pauline McDonogh, SWRMO and inputs on our own Boomerang Enterprises and IRD Duhallow's Furniture Revamp gave plenty of practical information and examples of putting ideas into action.
Facilitated by Chris Chapman there were some very productive discussions looking at how to grow the sector in the region, identifying key barriers and opportunities and the event itself helped to deliver the aim of building a stronger network and enhancing collaboration. Helen O'Shea's provided a beautiful display of her sculpted plastic and aluminium pieces which demonstrates another higher value use of discarded resources.
ReUse Republic
"Reuse Republic"showcase at County Hall, organised by SMILE Resource Exchange.
SMILE Resource Exchange and Cork County Council are delighted to collaborate on Reuse Republic, a public event that aims to bring together some of Cork's best upcyclers, reuse initiatives and eco businesses whilst encouraging people to Rethink Your Waste!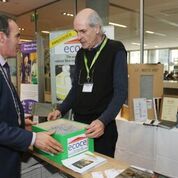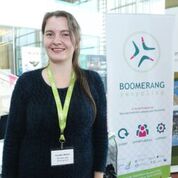 The Glitz & Glamour Fashion Showcase returned to Cork for the second year on Saturday 14th October. Hosted at St. Peter's Exhibition Centre the event was organised by the Southern Regional Waste Management Office in conjunction with Cork City Council and Cork Environmental Forum.
The Show thrilled the audience with the fabulous fashion on parade from the stores which included Miss Daisy Blue, Barnardos, Mercury Goes Retrograde, The Hummingbird Rooms, Enable Ireland, Records and Relics, Gorta, and The Retro Workshop with some stunning headpieces from Isabellla Ru.
A host of volunteer models did a fantastic job of stylishly displaying the sophisticated and stunning outfits. The outfits were perfected with the creative and artistic work on hair and make-up by Paula Curtis and her team at CHAIR. Pauline McDonogh, Prevention Officer with the Southern Regional Waste Management Office, the main promoters of ReUse Month, provided an elegant and eloquent commentary throughout the Show.
The diverse audience, many who just popped in from the end of a shopping trip in the city, were delighted with the variety and quality of the fashion on show ranging from items such as an early 70s psychadelic print multicoloured maxi dress with ruffled neckline worn with an arctic fox fur collar and navy blue fedora hat to a one shouldered, ink green, Karen Millen dress with a Call it Spring silver handbag. Beads, lace and brocade with some sparkle were a feature of many of the beautiful costumes on show giving a great glimpse of what is available in the sector.
The men were also catered for by the Retro Workshop and Records and Relics with the former showcasing some finely tailored wool suits and jackets, delighted that Tom Mulcahy, their tailor took to the catwalk too. Whilst the latter had inspiring unique looks for the discerning male.
Ahead of the Jazz Weekend and party season there is no excuse for anyone not to have a frock, shirt and jacket and accessories that will add sparkle to your evening.
What began as part of Reuse Month last year, is developing into a must attend event for Cork's fashionistas and will return again next year, the organisers welcome any expression of interest both from those involved this year and new participants.
UPCYCLING FOR THE HOME
Upcycled furniture, patchwork, babywear and toys, unique one-off crafted items, eclectic range from second-hamd stores and initiatives such as the reuse of juice bottles all featured as part of a display and opportunity to meet and get advise from experts involved in these businesses in the Upcucling for the Home event held at St. Peter's Exhibition Centre on Saturday 14th October.
The drop in event from 11am -3.30pm was organised by the Southern Regional Waste Management Office in conjunction with Cork City Council and Cork Environmental Forum as part of the nationwide ReUse Month initiative.
The focus on the home is due to the fact that this is where many of us can adopt changes to make items last longer, to repurpose them, give them a new lease of life through restoration services or consider procuring from the ReUse sector.
This year exhibitor's included Cork Deaf Enterprises, the Paint Pot, La Table Belge, Quay Designs, the Baby Market, Patchwork and Banners by Louise Harrington, A-Z Shop, Roger Nagle's beautiful crafted items for the home including lighting, tables and much more. Future Orchard Trust were promoting the ReUse of all of their apple juice bottles and Cork City Council were promoting reducing waste with reusable food measuring tools. Boomerang Enterprises mattress recycling project also showcased a special ReUse Month commission for the development of the "Boomerang Bag" made from textiles from the mattresses.
The Deputy Lord Mayor, Cllr. Fergal Dennehy was accompanied by David Joyce, Director, Cork City Council Environment & Recreation Services on a tour of the stands and heard first hand about these businesses and initiatives which are an important part of the ReUse Sector and the developing Circular Economy.
The event, now in its second year, aim is to encourage people to reuse and repurpose furniture and clothing no longer in use, while also encouraging shopping in the reuse sector when looking to update furniture, clothes and home textiles and buy eclectic items such as books, records and crockery with character. . Think-Speak-Do carried out a public engagement strategy to gauge people's views on sustainability and the role of ReUse in achieving this. A video of the findings will be available shortly. The public who attended were very engaged with the ideas and opportunities presented and we hope people are inspired to adopt a more ReUse friendly approach in their homeware and lifestyle.
ReUse Month Returns to Cork for 2017
This October sees the 2nd year of ReUse Month across the Country. As expected Cork is again highlighting the importance of ReUse as an important sector to assist our transition to a more sustainable society. Upcycling for the Home and Pre-Loved and Vintage Fashion are the main themes.
Reuse Month is part of a nationwide initiative to change attitudes to old and disused objects, while encouraging people to repurpose, donate, sell or repair items and to shop in the charity and vintage sectors.
CEF is involved with supporting events in Cork and Cobh. All events are FREE and everyone is welcome.
We are delighted with the participation of local outlets and organisations. For the lifestyle and home event these include Cork Deaf Enterprises. showcasing their wonderful upholstery service, The Paint Pot, La Table Belge, Quay Designs, A to Z shop as well as workshops on making celebration banners from material scraps with Louise Harrington and how to make a Busy Board for children. Eilis & Jo from Think-Speak-Do will carry out an public engagement exercise during the event. The Lord Mayor will attend the event at 12pm.
The Fashion Show will kick off at 4.30pm, with a wine reception and music. Participating charity and vintage shops include Miss Daisy Blue, Mercury Goes Retrograde, Barnardos, The Retro Workshop, Enable Ireland, Records and Relics, Gorta, Isabella Ru and the Hummingbird Rooms. The theme is "Glamour & Glitz" ahead of the Jazz Weekend and the party season – so be inspired for the latest look to sparkle for the season!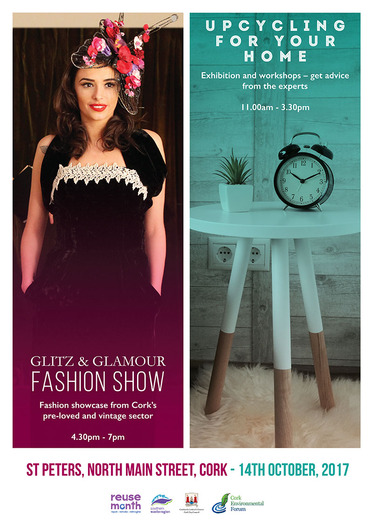 Local groups involved in the event in Cobh include Cobh Zero Waste, The Mens Shed Group, Cobh Tidy Towns and are supported by the Southern Waste Region office and Cork Environmental Forum.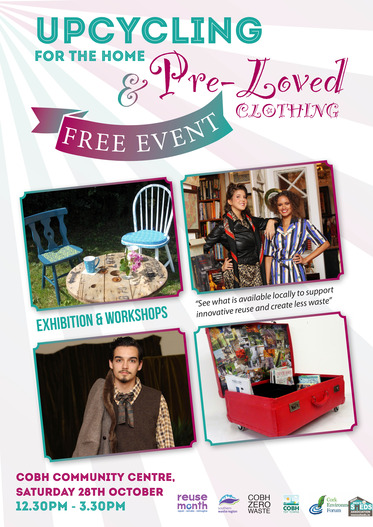 Everyone is very welcome and there will be interesting workshops as well.