Engage with Nature, Water, CUSP, TMF and more

Welcome to our Newsletter in advance of Easter. I hope you, your family and freinds are all keeping safe and well whilst adhering to the restrictions on movement. We all appreciate they are in place for a better outcome from the Corona Virus which has been life altering for all of us at the present time.
The curtailment of gatherings and movement have led to impacts on regular annul events such as Tree Week but also many forthcoming activities such as our joint Conference with the Foundation for Economic Sustainability, FEASTA, on "Beyond GDP, Governance for Wellbeing" which we hope to host later in the year after some reframing given the new paradigm of Covid-19.
Tribute to Natasha (Tash) Harty
CEF would like to pay a small tribute to the remarkable Natasha Harty. In general many in the environmental arena are fairly resilient but it's very true to say that we were all knocked somewhat sideways by the sudden loss of Natasha. She was a lifelong warrior for the enviornment and did so as a true lady, with compassion, kindness and tolerance and with great wisdom and unstinting activism. The last time I personally met Natasha she was on her way to yet another Climate March in Cork City.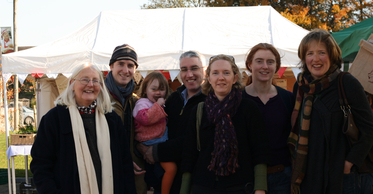 Natasha with Patrick Treacy, CEF Coordinator, and Midleton Transiotion Town Group a few years ago.
Natasha will be truly missed by all the communities she contributed to and impacted on in such a positive way, she was a beacon of inspiration and hope for many of us. Our sincere condolences to all her family and close friends. Her spirit will live on by all whose lives she touched and they are many. Ar dheis Dé go raibh a hanam
Re-connect with Nature
At this time of anxiety and worry nature is the perfect antidote as it is a source of daily joy, solace and wonder, Spring is springing into life despite the crisis.For those of us lucky enough to have access to green spaces and not completely cocooning the good weather of recent times has helped many to nurture a stronger bond with nature. The lack of noise from traffic, industry and people allows us to hear the sounds of nature much more clearly, especially the birdsong.
We reference some great initiatives to engage with from leading organisations working to build understanding, protect and restore nature and like the health challenge, the biodiversity challenge requires all of us to do our bit.

The All Ireland Pollinator Plan has a great blog with loads of great ideas to help bees, butterflies and other pollinators. One of the latest initiatives is 8 ways to help pollinators without leaving your garden, lots of great information available too – see link to blog
The National Biodiversity Data Centre have a host of information and materials available to aid your knowledge and help identify many species. There are also opportunities to assist with surveys and if this is something you've been thinking about getting involved with now is the ideal time to learn more about these great citizen science initiatives which help inform on trends and the status of many of our species.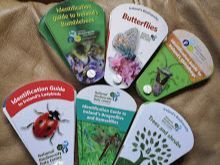 We recommend the ID swatches.
No matter what our circumstance right now, everyone can look out their windows and observe and hear the birdlife around them. Whilst Birdwatch Ireland are unable to process new membership orders and their on-line and physical shops are closed with all events cancelled there are great resources and information on the site. It is a good time to think about getting involved and when things do resume there are lots of local branches that host wonderful events throughout the year. You could also plan to engage in the Garden Bird Survey next Winter and now is the perfect time to hone your ID skills.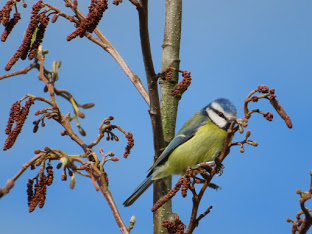 Not all sightings of the natural world are good, we are seeing far too many dolphins being washed up on the shore. This from the Warren Strand, in Rosscarbery. If you are within the 2km range of the coast there is no better place to observe nature, the tides and the life there. If you do sight a dolphin, shark or whale (dead or alive) then do please report to the Irish Whale and Dolphin Group and as well you can download the ORC Observers app on your phone to record sightings to them.

We hope that the Coastwatch Survey will be able to take place at the usual time of Sept./ October, in the meantime for those with an interest and up to the challenge it's a useful time to begin to identify the Seaweeds on our shore which are in excess of 400 varieties. We recommend the Seasearch book which is very comprehensive with beautiful images.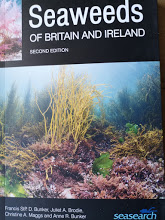 Easter Activities

Easter is just around the corner and we know many of you are probably already worn out from the home crafting ideas but this season it is a great opportunity to make your own cards and decorations such as felt chickens and painted eggs, which can be used year after year.
We are inundated by the range of on-line crafting ideas and there definitely is something for everyone, the Gluksman has a great home crafting series and there are many others to choose from including Recreate which highlights creativity through reuse.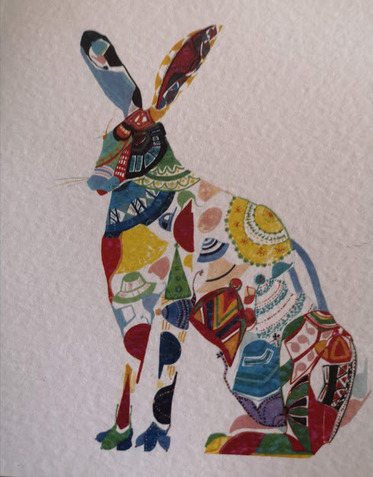 We love this creative card image from Ballydehob based artist Hammond Dourneaux "Hares in Hats" but think it could be a great source of inspiration to make collage "Easter Bunny"cards that adults and children will enjoy. Make a special card for the granny or granddad or another loved one that you can't be with as usual this Easter.
Water Matters
There are a number of consultations relating to the Marine and the River Basin Management Plan out for consultation at present, see more detail following.
In this edition we are championing the unceasing work of member David Lee on protecting water quality in his own catchment with an input from Lucy Weir who joined us on a field trip to see the work being carried out.
Profile of a CEF "Water Hero" David Lee


David Lee is without doubt one of the longest standing members of CEF and due to his lifelong activity of angling has developed a long-term concern and care for water quality and freshwater ecology and the wider nature it supports. David has been very active with supporting the implementation of the Water Framework Directive from the beginning through initially the South West River Basin Management Plan to the current national River Basin Management Plan. David is the Cork Environmental Forum representative on the national Sustainable Water Network.
We applaud David's tireless efforts and continuing determination to help protect his local catchment, we need action on the ground like this as all the talk and policy in the world won't solve the problem. Getting more people locally active in protecting their waters is what is really needed. This is a synopsis of a recent field trip by fellow member Lucy Weir.
Having recently moved to North Cork, I became a member of CEF, and joined Bernie Connolly, CEF Coordinator, and a local CEF member David Lee from Kildorrey who is a beekeeper with about a hundred hives, an angler, and an environmentalist for a field trip to see the work he has been doing on the catchment.
He has been working with local farmers to keep effluent out of the River Farrahy, his local river and a spawning stream for trout and salmon which has seen a huge deterioration in quality over the last number of years. The problem is exacerbated by three projects upstream, at source: an old landfill which is beginning to leak, a new development of a race track for cars that has involved clearing a stretch of land next to the river and from which very fine silt leaches into the river and stays in suspension, deoxygenating the water, and Coillte which has clear felled pines which sit by the river and cause acidification of water and increasing silting.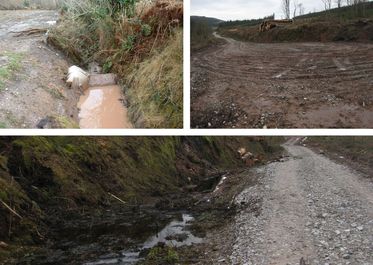 There are no dramatic fish kills but the fish are few and thin because invertebrates and other food sources lower down the food chain are being killed off. David has walked all 14km of the river and photographed the discolouration and pollution sources, he has reported these issues to a range of bodies including Inland Fisheries Ireland, Cork County Council and the Environmental Protection Agency but it is difficult to get action.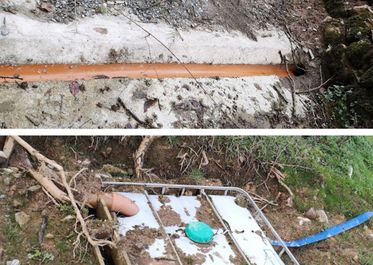 For now David is focusing his efforts downstream as he cannot alone address those larger issues. So we went along to see his rewilding project along the lower reaches, which is wonderful. Otters, badgers, masses of birds, and the river is much clearer with willow planted by banks abating much of the former erosion. He's installed drainage points into a filtering system so that cow effluent flows off away from the river and is filtered out , and the runoff drains into a corner of the field which the farmer has agreed will be planted with reeds, which will then absorb more water, but also provide a mini wildlife sanctuary.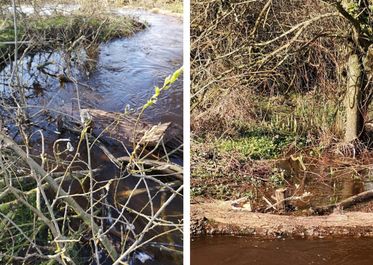 I think the important points in David's story are:
a) letting nature repair itself (i.e. it's intelligent and can repair itself given a bit of space and time)
b) 'you catch more bees with honey than with vinegar' i.e. you need to bring people with you, which is what David's done with the farmers in getting them to let him conduct the project on their land, and
c) you need to build community i.e. working alone is one thing, and it's amazing what you can do on your own, but you also need to get support from groups, or create networks, so you can make sure you're not written off as someone who has an axe to grind, but are treated with respect because you're working to a rational, scientific, humane agenda.
Lucy Weir
Writer and researcher who has just published her first book, "Love is Green: compassion as responsibility in the ecological emergency" (Vernon Press).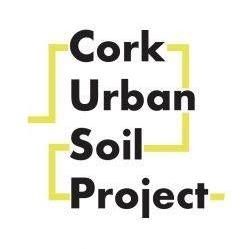 CEF is delighted to be able to support in practical ways this excisitng new project. Cork Urban Soil Project, CUSP, is a project that turns community green waste into community soil. CUSP is connecting the dots by using a fast composting machine that turns food waste and compostable packaging into soil in just 48 hours. The system is being piloted at the Mahon Food Market.
However, at this time of crisis the markets are closed so the project activity is on hold, nonetheless avenues regarding implementation and it's benefits continue to be explored. You can find out more about the project on the website or on social media @urbansoilproject.

Consultations and Planning Matters
There are a number of important Consultation processes that CEF will be engaged with, including:
Draft National Marine Planning Framework – The closing date for receipt of submissions on the Draft NMPF is now next Thursday 9th April at 3pm. I have communicated directly with CEF members on this but if anyone else can make a submission with regard to this important first spatial plan for our extensive Marine area please consider doing so. It is not a very accessible document so best to maybe focus on an area of interest or concern. All relevant documents are available at the following link.
Unfortunately due to the Covid-19 situation the Regional public event for this region in Kinsale on 23rd March could not proceed.
The Cork County Development Plan – the deadline for submissions due to emergency changes to the Planning and Development Act has been extended to Tuesday 2nd June. Details are available on the Cork County Council website.
"The Minister commenced Section 9 of Emergency Measures in the Public Interest (Covid 19) Act, 2020 which inserts a new provision (Section 251A) into the Planning and Development Act, 2000, as amended. In accordance with said Order the Public Consultation Period on the Pre Draft Public Consultation Period has been extended to 12 midnight on Tuesday 2nd June 2020 so as to facilitate engagement by members of the public to allow for the holding of Public Consultation Events."
The Significant Water Management Issues (SWMI) – deadline June 2020
CEF will be working over the next few months on a submission to this consultation which will feed in to the next River Basin Mangement Plan. Our water quality continues on a downward trajectory despite efforts to address the significant pressures on catchments. We are also engaging with the Sustainable Water Network on this and attended an excellent members workshop in early March.
Relevant information and documents available from the Department's website.
Changes to the Planning and Development Act, 2000
The Minister made the Order under Section 251A(4), such that the period from 29th March 2020 to the 20th April 2020, inclusive, may be disregarded when calculating any appropriate period, specified period, or other timelines in the Planning and Development Act, 2000, as amended, or provisions, or in any regulations made under the Act.
This pause in the counting of various timelimits – impacts a whole range of areas including making an observation on a planning application or an appeal to An Bord Pleanala. CEF understands that it does NOT apply to areas such as Forestry or Aquaculture.
Climate Strike On-line
#ClimateStrikeOnline #schoolstrike4climate #fridays4future
Here's one of our local stalwart strikers saoi4climate striking at home.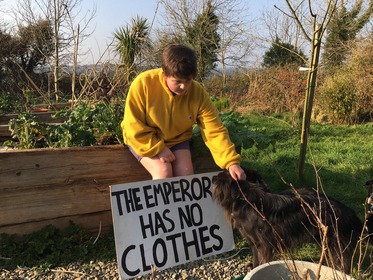 The transformation of lifestyles from the measures required to stop the spread of the virus shows that huge change can happen. We know the level of current restrictions is difficult and can have a negative impact on our wellbeing long-term as we are social beings. However, we can learn lessons as to what positive changes for people, society and the planet may be feasible longer-term such as increased levels of working from home, changes to consumption patterns, shorter supply chains, and strengthening local economies.
There is a need too to prevent further such corona viruses or zoonotic diseases –  this short video explains how the Wildlife Farming Industry supported by the Chinese Government created conditions particularly at "wet markets" for such diseases to jump from animals to humans. It is imperative that wildlife is protected and given space to thrive and this is something we can all support.

Corona VirusCovid-19

As you will be aware the HSE website is the best and most reliable source for up to date information.
Please see further information and initiatives by Cork City Council, Cork County Council, the HSE and Department of Community and Rural Affairs to support people and communities at this very challenging time.
Looking Back
Like all events Earth Hour had to highlight #connect2earth on-line around the globe as we all participated for #lightsout at home

It was a beautiful evening with a sliver of a moon and a very starry night, a reminder that Dark Skies Week approaches and that our night skies are something we can also engage with at this time of being more at home, a chance to identify the constellations.

have great resources on their website and are also doing a #DailyAstroChallenge with@Esero_ie which today will show you how to locate two huge constellations, Leo and Virgo, as well as giving you a sneak peak at some of the deep sky objects that we can't quite make out with the naked eye.


As part of the Community Resources Network of Ireland members meeting in Killarney on 5th March Una Lavelle, Chairperson, CRNI made presentations to Eugene Glover, Kingdom Furniture Revamp on the occasion of his retirement from the project and Paul Kelly, ex-Project Manager Boomerang Enterprises which regrettably closed in October 2019. Una acknowledged the significant contribution both had made to the respective social enterprises.

Coastwatch Launch of 2019 Survey Results on the Brian Boru at Grand Canal Dock

There was a really informative and fascinating evening session on lagoons with a keynote address by Dr Cilian Roden and case studies form the Ahere river lagoon fish nursery by Cathy Lee, Coastwatch Wexford. followed by the Whiddy Island and Reengonegan Bantry Bay lagoons by Dolf D'hondt Bantry Bay Group.

An overview of the results was presented at an event at TCD on 2nd March, followed by presentations and a workshop on our first Marine Spatial Plan and a legal clinic on the issue of Seaweed Harvesting Rights.
St. Patrick's Day Parade

Jayden displays the 2020 turtle
So many people were disappointed the parades were cancelled, especially the children, but we all know it was for the best. As always Mahon Youth Group were busy preparing the Biodiversity themed element for our float this years with some really creative and colourful turtles. Perhaps they will get an airing at another event before 2021!

Mix Your Mode Seminar

The annual Mix Your Mode Seminar hosted by the TMF was a great success. This year due to the proximity of International Womens Day there was an all female panel. Gender is one of the key socio-demographic variables that can influence travel behaviour, but it is often the least understood. Understanding travel behaviour by gender will help better design transport policies that are efficient and equitable. Women and men have different expectations, needs and constraints for using the various transport modes for their daily mobility. One undeniable example of this in the Irish context is the low number of girls and young women who cycle. In order to change this, the different mobility needs and requirements of women, female travel patterns as well as their safety and security concerns need to be better understood. The attendees heard excellent thought provoking and inspiring presentations from Anne Graham, CEO National Transport Authority, Paula Cogan, President of Cork Chamber of Commerce, Giulia Vallone, Senior Architect, Cork County Council, Lisa O'Grady, An Taisce Green-Schools Travel Environment Education Officer, Jeannette Fitzsimons, Planner, Urban Designer and Lecturer at the Centre for Planning Education and Research in University College Cork and Hannah Mulcahy, Graduate Planner

Please check out our Website, Facebook Page Twitter.
Bernie & the CEF Team